Sebagai layaknya topik hangat di dunia sistem informasi dan korporat secara garis besar, konferensi seputar Knowledge Management rutin digelar tiap tahunnya. Tahun 2010 ini saja, setidaknya ada 3 konferensi bertaraf internasional yang digelar di berbagai negara.
Knowledge Management Conference 2010 (3-5 Mei 2010, Washington DC)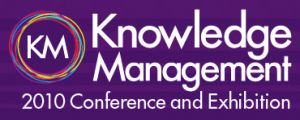 [link] Konferensi dengan tema "KM: THE ROAD TO GOVERNMENT TRANSPARENCY, COLLABORATION AND CHANGE" ini bertujuan untuk memberikan gambaran bagaimana KM merupakan satu elemen instrumental untuk menciptakan pemerintahan yang terbuka dan transparan. Beberapa yang akan dibahas, antara lain : Foundations of KM, KM Tools and Techniques, KM in the Department of Defense, and KM in a Collaborative and Transparent Government.  Konferensi ini sendiri diprakarsai oleh 1105 Government Information Group dan telah memasuki tahun ke-11.
I-KNOW 2010 (1-3 September, Austria)

[link] I-KNOW 2010 mengumpulkan berbagai macam riset dan praktisi di area KM dari berbagai negara. Konferensi ini telah memasuki tahun ke-10 sejak pertama kali diadakan. Konferensi ini diprakarsai oleh Know-Center, sebuah pusat penelitian dan kompetensi mengenai KM di Austria.
European Conference on Knowledge Management 2010 (2-3 September, Portugal)

[link] Diprakarsai oleh Universidades Lusíada Portugal, konferensi ini adalah perhelatan ke-11 kalinya. Konferensi membahas 4 macam topik secara garis besar, meliputi evaluasi, model, kepemimpinan KM, knowledge economics dan juga isu-isu regional.
12,294 Responses to 'Konferensi Knowledge Management'