Saat berkenalan dengan dunia KM, akan sering terdengar istilah Tacit Knowledge dan Explicit Knowledge. Keduanya merupakan bentuk pengetahuan yang harus dikelola dengan cara yang berbeda-beda. Untuk itu, perlu diketahui definisi dari keduanya.
Tacit Knowledge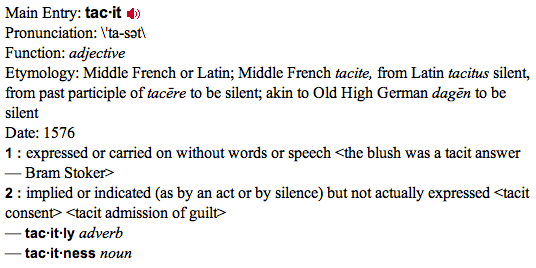 — dari Merriam-Webster : Tacit
Secara harfiah, Tacit dapat diartikan sebagai suatu substansi yang dapat diekspresikan secara implisit tanpa terang-terangan. Hubungannya dengan KM, Tacit Knowledge dapat didefinisikan sebagai pengetahuan yang tersimpan dalam seorang individu yang terkadang ia sendiripun tidak menyadari keberadaan atau nilai dari pengetahuan itu sendiri. Secara sendirinya, pengetahuan semacam ini tidak tersimpan dalam bentuk formal seperti dokumen informasi atau bahan pengajaran. Karena itu, organisasi tidak dapat menggunakan Tacit Knowledge secara optimal tanpa mengubahnya terlebih dahulu ke dalam bentuk yang lebih umum dan lebih mudah dikomunikasikan ke orang lain.
Menurut Kamran Parsaye, terdapat 3 cara untuk mendapatkan pengetahuan yang Tacit dari seseorang Individu, yaitu :
Interview terhadap individu (expert) yang bersangkutan
Pembelajaran dari apa yang diberitahukan oleh individu tersebut
Pembelajaran dari hasil observasi
Explicit Knowledge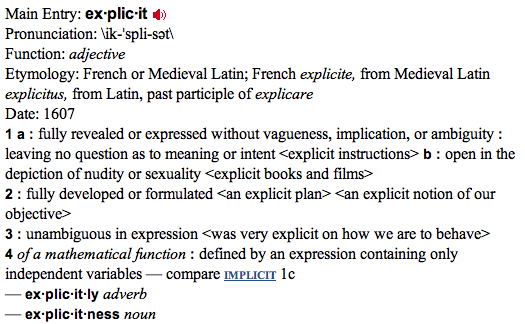 — dari Merriam-Webster : Explicit
Kebalikan dengan Tacit, Explicit diartikan secara harfiah sebagai sesuatu yang terekspresikan secara langsung dan tanpa ambiguitas. Lebih lanjut Explicit Knowledge dapat diartikan sebagai bentuk pengetahuan formal yang telah didokumentasikan dalam media tertentu dan siap untuk dibagikan kepada orang lain. Bentuk pengetahuan ini dapat dikelola lebih mudah oleh sebuah organisasi. Explicit Knowledge pun dapat diperoleh dengan cara melakukan transformasi dari Tacit Knowledge dengan suatu proses yang dinamakan codification. Tak hanya soal transformasi, pada akhirnya proses ini juga harus memastikan bahwa pengetahuan yang ada harus dapat diakses dengan mudah oleh mereka yang membutuhkannya. Hal ini dapat dicapai dengan pemilihan media penyimpanan yang tepat dan lokasi (fisik ataupun virtual) yang dapat dengan mudah dicapai.
—
[1] Tacit Knowledge : http://en.wikipedia.org/wiki/Tacit_knowledge
[2] Explicit Knowledge : http://en.wikipedia.org/wiki/Explicit_knowledge
[3] Hall, Matthew. "Knowledge Management And The Limits Of Knowledge Codification". Aston Business School. 2004.
6,551 Responses to 'Tacit vs Explicit'